Hire a SAP BTP Consultant now!
Find top SAP BTP Consultants. Unlock SAP Business Technology Platform's potential with expert skills. Accelerate innovation & digital transformation.
Complete the form,
Simon will contact you
Complete the form,
Simon will contact you
What to expect from Simon:
0 interview process: Simon does it for you
1 single account manager
2 talented professionals
An answer in 3 days
Clear rate card and transparent costs
SAP BTP Developer Skills:
Database & Data Management: Broad knowledge of master data governance and the SAP databases.
Data Analytics: Excellent business intelligence, Augmented analytics, Predictive analytics, Collaborative Planning and Data warehousing and Data analytics.
Application Development and Integration: SAP APP Gyver, Data integration tools and techniques, including ETL processes, Process Automation, and data mapping
Intelligent technologies: SAP Intelligence such as, Machine Learning, Intelligent Robotic Process automation, block chain and Internet of things.
Business Process: Lead to cash, Design to Operate, SAP Enterprise Asset Management, Source to Pay, Finance Accounting, Management Accounting, Warehouse, and Inventory Management.
Project Management: SAP Activate Methodology, Agile
Why choose Simon?
We have over 11 years of experience delivering data and analytics transformation projects and sourcing our teams with delivery accountability. We are recognized for finding the right Talents, so why not doing it for you ?
1 – Understanding
You answer an Online questionnaire focused on Data and Analytics Skills.
If needed, you schedule a meeting with your Account Manager via the platform.
2 – Prospecting
We check our internal Database using your criteria.
We post your job requirements on LinkedIn, Dice and our platform.
3 – Interviews
We perform the Interviews for you.
Simon covers all questions : Legal, Motivation, Technical Skills, Autonomy.
The video and the evaluation are made available to you.
4 – Short-list
We select 2 candidates and prepare a package for you.
We secure the candidates before proposing them to you.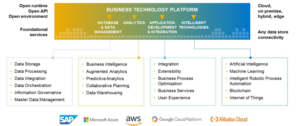 SAP Business Technology Platform (SAP BTP) unifies application development, automation, integration, data and analytics, and artificial intelligence in a single environment.
"Successful businesses are constantly evolving. Our platform solutions can help you create an agile business that's prepared for change."
Enable cloud migration with SAP Business Technology Platform
SAP Business Technology Platform (SAP BTP) enables you to innovate in new ways by adopting a cloud operations-based model on infrastructure as a service (IaaS) technology — and transformation opportunities with fully managed platform as a service (PaaS) offering.
SAP BTP comprises solutions spanning data and analytics, application development and automation, integration, enterprise planning and artificial intelligence technologies.
SAP Build – Create and augment enterprise apps, automate processes, and design business sites visually.
Pro-code development – Develop using IDE, tools, and frameworks optimized for Java, Java Script, and ABAP.
Financial Planning – Perform instant analysis for planning and actuals in one integrated solution.Supply Chain Planning -Strengthen supply chain resilience with SAP.
SAP HANA Cloud – Modernize your data foundation.
SAP Analytics Cloud – Make decisions without doubt.
SAP Datasphere – SAP Datasphere is a unified service for data integration, cataloguing, semantic modelling, data warehousing, and virtualizing workloads across SAP and non-SAP data.
SAP Master Data Governance – Improve the quality of your business-critical information with a central hub for master data management and governance.
SAP Integration Suite – Connect and automate your business processes with integrations, connectors, APIs, and best practices for a faster ROI.
SAP AI Business Services – Add intelligence to your applications using AI models pretrained on business-relevant data.
SAP AI Core – Deploy and run AI models at scale without compromising data privacy and cost-effectiveness.
SAP AI Launchpad – Mange the entire machine learning lifecycle in one central place.
Hire a SAP BTP Consultant now!